This topic is in response to what @RamonM is saying in the latest video on the Krita channel.
I'm refering to this video: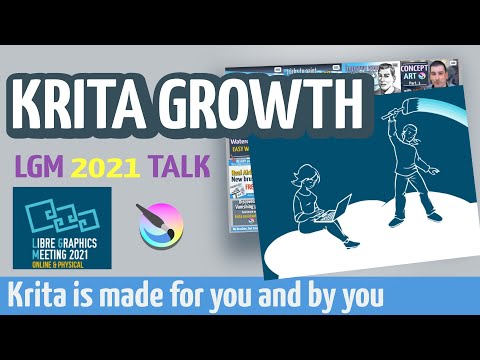 I'm often wondering how I can contribute, I'm very grateful for this software but I'm by no means a professional artist and don't have an audience to influence.
I do have some thoughts on community interaction and can say a number of things from my own experience.
I apologize if this post turns out to be a bit lengthy.
First off, this of course doesn't apply to any video but I personally like to be able to discuss topics like these and think it may be a good idea to have forum topics sometimes accompany a video.
for example
"We posted a new video on our current development, what are your thoughts?"
I think this may turn out to be more constructive than the option of having people comment on Youtube.
Social media presence in general
This is something Ramon addressed shortly and I would like to comment on that.
While youtube is a social medium and a great place to stay up to date, the comment section below video's isn't well suited for discussion.
A reply can easily get lost among the "great video, love this software" comments.
Krita isn't very present on Facebook or Instagram to my knowledge, even though there are a number of Facebook groups dedicated to Krita.
They seem to be initiatives of community members and are there for the sole purpose of sharing artwork it seems.
It would be great if there was a page or group that is being maintained by someone from the Krita team or with links to them, that way people can stay up to date in a more official manner.
From what I gathered there isn't much enthusiasm for an official Discord.
Discord however is where communities often meet these days.
I would like to ask the question why there isn't one officially (there is an unofficial one that hungers for good moderation and quality artwork imo).
From my own experience it's a great way to connect as well as post your artwork or works in progress.
Getting good comments and critiques is extremely helpful to grow as an artist and a Discord server easily provides that if it has an active and helpful community.
Feature requests and bug reporting
To start with the first one.
It's so great to have this section on this forum, it really makes me feel like being a part of the development.
The story of how Krita adapted based on the comments of @Deevad is legendary already and is a good example of the strength of granting these options to a community.
It's really powerful and actually something that paid apps with a larger company behind them lack.
It is a two-edged sword really, community members feel heard and as a result a part of something big AND feature requests help to point out things overlooked or sometimes not even considered in development.
Bug reporting is a different story in my opinion.
I used to have a small problem with shortcuts from my tablet not translating correctly in Krita, in fact I still do but it's fine.
(Can't even tell if it has to do with my Wacom intuos or with Krita to be honest).
Posting a thread here on the forum was very helpful, within minutes other community members rushed to my aid explaining how stuff works under the hood and coming up with suggestions to fix my issue.
Unfortunately it however came to the point of me having to file an official bug report because none of the comments fixed the issue.
The bug reporting section, which isn't on this forum, was something I really needed to look up.
Filing the report came with the warning of people being busy and there being a chance that it would not be replied to.
This "filled me with dismay" (big words, it's a small issue but I'm talking about this to open up conversation on bug reporting in general).
I immediately felt like I wouldn't likely get a response, and I didn't.
I can think of no way to make this more transparent or easier myself, and I am very much aware that a small team is working very hard on this software.
Still, I did feel like mentioning this here because who knows right?
There is definitely room for improvement there imo.
Posting artwork for comments and critique
This part is mostly addressed to the community at large and is from my own experience.
I'm a growing artist.
My work mostly consist of illustrations in a comic book style and I think I have a long ways to go yet.
It happens to me that I post work and ask for comments and critique, but then nothing really happens.
Of course this is a big forum and community, yet I'm under the impression that clickbaity titles and painterly styles are often needed to get some constructive criticism.
I mentioned social media and Discord, and for me personally the big difference is that people there often feel free to critique if they think something can be improved upon.
In my opinion this is a good thing!
Of course I also get compliments if something appeals to them, I appreciate that a lot but it doesn't always help me to grow as an artist.
I sometimes doubt if I'll put work up here, because the response isn't there like it is on discord.
I'm not telling everybody here to pay attention when I post something.
What I am saying is that a forum like this can be a fertile ground for artists to grow in.
I would personally very much like to lower the bar a bit so people don't feel intimidated to post their work.
Let's help each other grow, and let's grow this wonderful software and community!
As for the funding campaign, I really have nothing to add because I think people like Ramon are doing wonderful work in that regard and it goes without saying that by growing this community and software I also mean making the work that is being done possible and more!
I would like to point out that being free of charge sometimes seems to put Krita at a disadvantage.
Sometimes I think I'm noticing people not wanting to try it because they think 'it can't be any good if it's cheap or free'.
Lastly,
From the bottom of my heart I would like to thank the Krita development team for their wonderful work on this amazing software, I would also like to point out people like Ramon and David for their dedication!
I would of course also want to point out anyone I'm forgetting here, they are worthy of mention for what they do.