Description:
Krita's canvas rotation's gizmo is currently bound to the center, which means no matter where on screen your cursor is the gizmo remains in centre. This means that to rotate canvas the cursor has to move across the whole screen for a full 360° rotation or you have to move the cursor closer to the center of the screen to use shorter circular movement for the rotation.
This plugin introduces a new shortcut and a semi-new function which utilizes Krita's original canvas rotation but instead of having window/screen as a centre for the rotation gizmo the cursor's position at the moment of shortcut activation is utilized as the gizmo's centre.
Youtube brief showcase: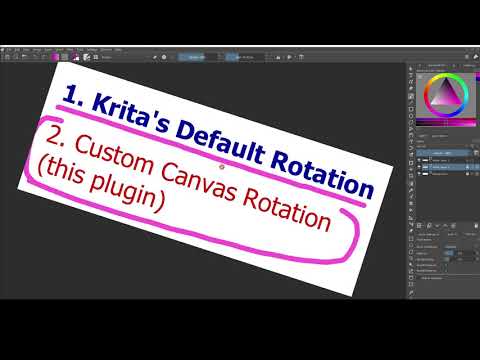 Link to the plugin:
This is linked to the feature request I made:
Hopefully, this will demonstrate the functionality well to be considered as a feature one day in the future
for now I created this as a substitute.
I tested this on keyboard, pen buttons, pen display buttons on win 10 in the latest stable Krita version 4.4.1.
So far I haven't encountered issues (which I haven't solved already) but I'm limited in way I can test this.
At least for now it seems to work just fine for me on my system.
I should note I'm not a python programmer at all, no exp with pyqt or krita's development so if someone finds their way here and thinks there's a way to improve the code feel free to leave a comment or two ;0