Krita 5.1.0 Released!
Today we're releasing Krita 5.1.0, a major new feature release!
Read More >
Krita 5.1.0 Released!
Published 18th August, 2022
Today we're releasing Krita 5.1.0, a major new feature release!
(Link to original post: Krita 5.1.0 Released! | Krita)
Highlights
Even more operations can handle multiple selected layers.
We've improved support for the WebP, Photoshop layered TIFF and Photoshop files, and there's new support for the JPEG-XL file format.
We're now using XSIMD instead of VC, improving painting performance, especially on Android where vectorization now is used for the first time.
The fill tools have been extended with continuous fill and a new Enclose and fill tool.
For Windows, we're using a newer version of Angle to improve compatibility with video drivers and improve performance.
You can now configure touch controls in canvas input settings, like "Tap to Undo".
And there are, of course, a lot of bug fixes, performance improvements and all kinds of little user interface polishing.
For the full list, check out the full release notes!
Release Info Video: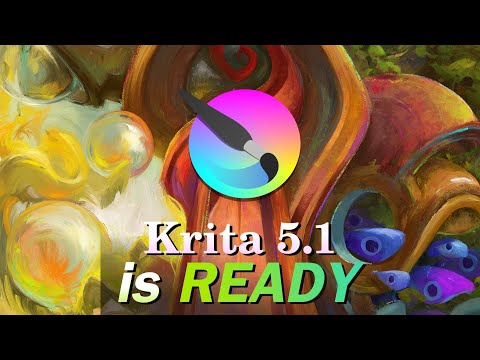 Support Krita

Krita is a free and open source project. Please consider supporting the project by joining the Krita Dev Fund, donations or by buying training videos! With your support, we can keep the core team working on Krita full-time.
Download
Windows
If you're using the portable zip files, just open the zip file in Explorer and drag the folder somewhere convenient, then double-click on the krita icon in the folder. This will not impact an installed version of Krita, though it will share your settings and custom resources with your regular installed version of Krita. For reporting crashes, also get the debug symbols folder.
Note that we are not making 32 bits Windows builds anymore.
Linux
The separate gmic-qt appimage is no longer needed.
(If, for some reason, Firefox thinks it needs to load this as text: to download, right-click on the link.)
macOS
Note: if you use macOS Sierra or High Sierra, please check this video to learn how to enable starting developer-signed binaries, instead of just Apple Store binaries.
Android
We consider Krita on ChromeOS as ready for production. Krita on Android is still beta. Krita is not available for Android phones, only for tablets, because the user interface needs a large screen.
Source code
md5sum
For all downloads, visit https://download.kde.org/stable/krita/5.1.0/ and click on Details to get the hashes.
Key
The Linux appimage and the source .tar.gz and .tar.xz tarballs are signed. You can retrieve the public key here. The signatures are here (filenames ending in .sig).
I am so happy I appeared in the video by @wojtryb ! Believe me, it made my day, thank you so much for the shoutout!
Wonderful! Thank you and all the amazing developers!!!
I've been testing it since Tuesday, thank Jenkins!
What else can I say, you all did a fantastic job! Thanks to the whole team behind Krita!
Michelist
Way to go! I just saw the trailer, so I hope someday maybe one of my drawings makes the cut in the 5.2.0 trailer
(because of my slight affiliation with the team ((my interview, and appearance in the 5.0 release notes)))
I generally don't check out the release posts and run to download.
It's actually great to have a video. Nice one @wojtryb
Hi
Great news
---
Note
Shouldn't this topic be in #develop:development-news category instead of #develop?
I didn't changed the category by myself because I prefer to be sure, but as now there's a category dedicated for development news
Grum999
I see that sadly the display problem of the move tool when using the keyboard arrows was not corrected
Thank you to all the developers and contributors who work so tirelessly on making Krita such an amazing experience for the rest of us.
I truly appreciate you!!!
Thanks and congrats to the team with the new release!
Lots of very nice improvements in this release.
Knowing what's ahead, Krita has a very bright feature, thanks to all who contributed! Much appreciated.
Thank you so much for this release this totally made my day. So many additions where unexpressed feature requests of mine (and apparently, expressed FRs of other people). My favourite additons are:
Proper colour choose on MacOS! Thanks you so much for that!
Loving the new fill tools!
visual marking of eraser tool, now I don't keep erasing stuff when thinking I'm painting anymore!
HSL in specific colour selector, I was really missing that!
Also really loving that I can do so many things with multiple layers selected.
I missed that one until now. That's great!
I second all the other points you raised too, so many real quality of life improvements, not some gimmicky new features. Way to go Krita!
There are so many cool new features, especially the new fill tools. I'm going to try and write up some more articles on my blog about the features, writing about them helps me digest / understand them and hopefully increases awareness to others as well.
I cannot install this on my windows 10 gaming pc for some reason. I've tried everything from cumulative updates to deleting or renaming a file named kritarc and it will not load the program. I hope that there's a fix for the 5.1 since I can't have it myself. I'm doomed at the version 5.0.6 forever!!!
Hello @oiseaufeu and welcome to the forum
Please create a new topic in the General Questions category to deal with your problem.
Also, please explain in more detail what you mean by 'gaming PC'.
Be prepared to be asked and to answer many questions.
It's a home built pc. Someone had built it for gaming originally. There was a closed discussion on the problem I have now. I'm also very new to this site.
Looks very neat but is does this version still count layer state in UnDo history?
I didn't find info either way so I assume we still don't have control of that. I would love to try this one out but last time I updated to 5.0 that screwed my workflow so much I had go back to 4. Sucks to skip this when some of those fill and selection tool updates look really good.